We went off the beaten trail this weekend, fancying a change of scenery. I'm starting to wonder whether I've exhausted all of my reviewing options in Newcastle 🙂 A conversation at work about pie and mash led us to visiting Whitby for the day, somewhere Him Indoors had not visited before. It seemed fitting ahead of
National Pie Week
!
We are very fond of pies, and I've blogged about our experiences at Redhouse and The Running Fox previously. I told my colleague that they would have to be mighty special pies to drive so far south for one, but he assured me it was worth the effort. We set the alarm early to get out onto the road and I was shocked it took 90 mins to drive there. As I was wearing my AC/DC tee Raf said listening to the band during the journey was compulsory!
I had visited Whitby many times before, but my previous experiences were limited to eating
Magpie's
 chips on the seafront. I was eagerly anticipating
Humble Pie N Mash
, especially after checking out the TripAdvisor reviews and their
Facebook Page
. Even on the drive down Raf was talking about the Corned Beef Pie! Once parked we headed straight over the Swing Bridge to the cafe. It is tiny inside, so be warned about wait times during peak season if you decide to visit. We were lucky to grab a table as a party had just left. It was still a tight squeeze though, and it isn't the most comfy eatery I've visited for blogging purposes.
Strategically placed mirrors make you think there is more space than there actually is, and the tables are so close together I only became aware of a pretty little shih tzu puppy sat at my feet when his owners left and dragged him out from underneath me! The atmosphere makes you feel like you're being transported back to a simpler time when food wasn't served on slate or garnished with coriander. It was nice to read about the history of the building, which can be found on the back of the menu. The first written deeds of the property are dated 1638, but it was said to have been around longer than that even. There are some artefacts found over the years displayed around the cafe, if you look closely.
The service was lightning quick in terms of our pies, but Raf had to remind them about his ordered Camp Coffee. I think they'd forgotten about it, and when it arrived the mug was grubby. We weren't expecting Peace & Loaf standards in terms of presentation, but the outside of the cup could have had a damp cloth rubbed round it at the very least.
The food was piping hot and delicious. Their pies are homemade, the mash is creamy and the gravy plentiful. Raf had Steak & Stout, while I decided to have the Corned Beef. I've heard on the grapevine that the Black Pudding & Sausage version is super tasty, but we're not fans of the black stuff so avoided. There's also a vegetarian option, so no-one is left out. The prices are reasonable, although I did see a comment thread on Facebook complaining about it costing £2 for the peas, mash and gravy to be added. Crazy.
A couple at the table beside us had travelled down from Middlesbrough especially for pies too, so Humble definitely has a cult following. We were too full to try the jam roly poly or syrup sponge on offer for dessert, which is a shame because it would have been a good comparison for our Redhouse experience. It definitely got a thumbs up from us, despite the quibbles about service.
After our meal we walked up to Whitby Abbey, which is on top of a high hill just up from the town centre. Be warned, you'll be breathless afterwards on a full tummy! We wandered around there, then back down to the Harbour where we tried out a Lemon Top from Truly Scrumptious. With all that walking we deserved a treat 🙂
I had Bubblegum flavour as I'm not a fan of Lemon Sorbet. A trip to the coast wouldn't be complete without a cornet, that's for sure! Unfortunately they weren't as delicious as our very own
Minchella's
, in my humble opinion, but they didn't last long. Our final trip was up to see the
whale bone arch
, which sits above the Harbour.
We had a lovely day in Whitby and I'm pleased we travelled down for our pie adventure. I'd definitely recommend Humble Pie N Mash for grub, or Mrs. Miggins Pie Shop as I refer to it now! A must-visit if you're in the area.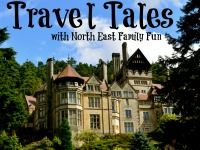 #TravelTales