Dunston is not somewhere I'd usually consider spending a Sunday lunchtime, but that's precisely what I did this week. Jnr and I had the opportunity to have some alone time together, and I wracked my brain for suggestions that would be acceptable to Little Lord Fauntleroy.
You see, Jnr and I lived alone for 5 years. I'm not counting our cat in the equation, although she is very much the baby of the house! We had quite a nice little routine going on; eating out often, holidays on our lonesome in places like Florida, lazy Sundays watching Adventure Time while eating ice cream. That all changed in October, and I felt we needed to 'reconnect' as he's approaching the teenage years.
I had the wonderful idea of a trip to the Coast followed by Fish & Chips, but he dismissed it as the beach is 'boring'. I recalled a photo on
Twitter
of a very tasty looking lasagne – his favourite – and asked him if that would be ok. He reluctantly agreed, on the proviso he could take his 3DS along. Kids these days!
The Staiths Café
is located within a newish residential estate. The address is not on their Twitter page or website, so I went to completely the wrong place to begin with. It is on their
Facebook
page though, so finally made it. Being a Gateshead lass doesn't mean I automatically knew where this was, it seems!
Jnr was incredibly disappointed to discover that the lasagne is a weekday menu option, so he was immediately moody with me. I clearly had dragged him out of the house and away from League of Legends under false pretences. It would help if their website had a menu, so people could make decisions ahead of a visit. At present it is just a holding page with contact numbers. I know from Facebook and Twitter they do themed food evenings, but not everyone is social media savvy and this could be deterring guests.
He told me to get 'whatever' so I ordered us both a Ham & Cheese Panini each. I asked for mine to have the balsamic onion that was promised on the menu, his without. I also asked for a side salad with mine, whereas he naturally has an aversion to anything green.
We definitely got the best table in the house with a lovely view of the historic
staithes
. Jnr was impressed and started asking me questions about the area. I was happy we were talking and he was interested, then realised this was because his 3DS battery had died. Our food arrived and my balsamic onion were forgotten about. I hadn't taken a huge bite and didn't have to walk downstairs to correct it I would have said something, but I'm clearly too lazy!
It was still tasty, and even Jnr said he enjoyed it more than he expected. To make up for the lack of lasagne I said he could choose a cake to compensate
. He wandered upstairs with a definitive decision – Chocolate Brownie.
They were fresh out of the oven, still warm, and had an oozy, gooey centre. Very good indeed! We also had a shortbread biscuit and shared the two.   Someone on Facebook said the shortbread was bought in from Costco instead of homemade like the brownie, and to be fair the cafe didn't claim it was. They highlight what is made by their own fair hands on the signage. From there we headed up to Gibside for a wander to make use of our National Trust membership. Quite the day for us.
Aside from the obvious disappointments we encountered we enjoyed our visit to The Staiths Café. I'm reliably informed the breakfasts are pretty good too. The total bill – including drinks – came to under a tenner, which is good value for money in my opinion. It seems like a very popular stop for cyclists based on the number who were leaving as we arrived. We're hoping to return again when there's a lasagne on the go 🙂
Thanks for reading,
Pip x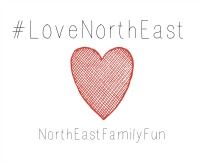 #lovenortheast